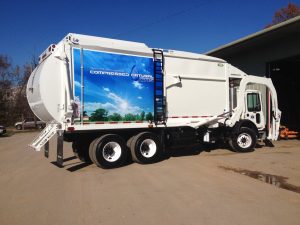 The City of Somerset provides weekly trash pickup.  The trash and recycling is emptied on the same day once a week.  The monthly cost is $10.57 a month. All trash must be contained in disposable plastic bags that are leak-proof and securely tied before being placed in container.  Do not take can with you if you move. Please contact 606-679-1107 or 676-9246 to have container removed from the current location.
When is my trash collected?
Please call 679-1107  for pick up schedule
When can I set my container out?
Please be aware that anything within a 3-foot radius of the container shall be deemed garbage to be collected.  All trash must be contained in disposable plastic bags that are securely tied before placing inside of container.  Trash cans should be placed in the rear of building with the exception of collection day.  The container should be place on the curb no earlier than 4:00pm prior to your collection day and no later than 7:30am on the day of your collection. Containers must be removed from the curb by 7:00 pm on the day of your collection.
Why did they empty my garbage and not my recycling?
The department uses separate trucks for garbage and recycling.   To avoid the trucks getting in each other's way, we have scheduled the routes so that containers are emptied at different times. Please give the other truck time to come through.
What is considered extra pickups?
Items such as box springs, mattress, TV's, washer, dryers, water heater, refrigerators, freezers, couches, loveseats, recliners, brush, remodeling materials, bicycles, and etc; any such items that can not fit into a can or bag.
How to dispose of bulk items?
The City of Somerset will pick bulk items that are placed by the road side for a disposal fee.  All doors on refrigerators and freezers MUST be removed before placing at the curb.  All items that are made of or contain upholstery or similar material such as mattresses, box springs, furniture and other related items must be completely and fully wrapped in plastic or other water proof material.   There is a minimum service fee of $15, full pickup truck is $25, and a full ton truck is $40. You may call 606-679-1107 or 606-676-9246 to schedule an extra pick up.
What happens if I put items on the curb when it isn't my collection day?
In an effort toward keeping our city safe and clean, items place on the curb on the wrong day or without reporting to the sanitation department may be picked up immediately.  The property owner will be responsible for the disposal of said items.
What if I have more trash than fits in my container?
The City of Somerset allows six 30 gallon bags (approx 2-3 cans) per week.  If your can will not roll, it has exceeded the weight limit and is overloaded.  The can may not be emptied.  If you regularly have more trash than fits into your can, please make sure you are utilizing your recycling can to its full potential.
What if my container is lost, stolen, or vandalized?
Please report any lost, stolen or vandalized cans to the City of Somerset Sanitation Department as soon as possible.  All reports will be investigated by the sanitation department. If the property owner is found to be negligent in the care of the container, resident will be responsible for the cost of the replacement.