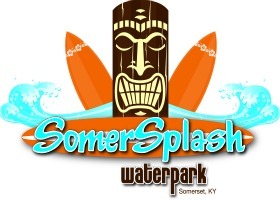 SomerSplash Birthday Party Package: $199.99 + tax
2 One Topping Pizzas
3 Pitchers of Coca-Cola Products
1 Tub of Vanilla Ice Cream
Party Room Reserved for 2 Hours
Admission for 10 to SomerSplash Waterpark
** With the purchase of a Birthday Package… You may bring a birthday cake only. No other outside food should be brought inside SomerSplash Waterpark.
Adding Extras to the Party?
Party Room (Holds up to 25 individuals)
Extra Room Rental: One Room $25.00 per hour
Two Rooms: $50.00 per hour
*To add both party rooms to a party package add an additional $50.00
Prices apply for any time of day
FOOD:
One Topping Pizza: $10.00 per extra pizza
Pitcher of Coca-Cola (Refills and Additional Pitchers): $2.00
GUESTS:
Additional guests wanting entrance into the pools $7.00 each
Additional guests not entering the pools must purchase a dry dock pass $2.00 each
ADDITIONAL INFORMATION REGARDING BIRTHDAY PARTIES/ROOM RENTALS
•Those under 48 inches tall will not be allowed to ride the slides & will be given proper wristbands
•No outside food or drinks allowed at SomerSplash, Except birthday cake. (exception is only for birthday parties booked through SomerSplash)
•$50.00 deposit is required at time of booking birthday party/room(s).
•48 hour notice of cancellation is required for a refund on the birthday party/room(s) deposit.
•Anyone age 3 and up is required to purchase either a dry dock or water pass for entrance into the Waterpark.
**Party packages are not valid with any other discount offers**