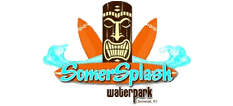 SomerSplash Waterpark
Kentucky's Best Waterpark
SomerSplash is now closed for the 2020 Season!
Refunds cannot be offered on 2020 season passes after
Friday Sept. 11, 2020.
Read our preparedness plan to learn more about the guidelines we'll follow to make sure everyone stays healthy and safe:
2020 SEASON PASSES ON SALE NOW ONLINE
Beat the heat and rent a cabana! Call for reservations.