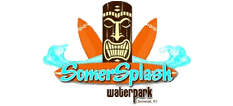 SomerSplash Waterpark
Kentucky's Best Waterpark
2021 Season Passes are on sale at SomerSplash Waterpark from
11 am-12:30 pm and 3:30-5:00 pm Mon-Fri  (excluding holidays) or online.

If you held onto your 2020 season pass you may redeem that at SomerSplash when purchasing your 2021 season pass and receive an additional $10 off the current price. To redeem the $10 discount, the 2021 pass must be in the same individual's name.*
*The 2020 season pass $10 discount can only be redeemed at SomerSplash Waterpark. Unable to redeem the discount online.

Installment plans are now available online only. Additional information regarding installment plans are available on the Summer Pass Information page.
Refunds cannot be offered on 2020 season passes after Friday Sept. 11, 2020.
Read our preparedness plan to learn more about the guidelines we'll follow to make sure everyone stays healthy and safe:
2021 SEASON PASSES ON SALE NOW ONLINE