Mayor Girdler was presented with arguably the largest gavel in this part of the country. Mr. Cy Waddle, a long time owner of Somerset Refinery and many Somerset Oil stations throughout Kentucky, presented the Mayor with the gavel, saying he was proud of the city and the impressive growth in the last 12 years. Mr. Waddle is also a former Somerset City Councilman.
"Cy Waddle is an outstanding community and business leader," Mayor Girdler said. "He has devoted his life to improving jobs and making the City of Somerset a great place to live. We thank Mr. Waddle for his investment and support of Somerset."
Mr. Waddle loves to go to estate sales and other types of auctions. He got the material for the gavel at one of those auctions and had it made specifically for Mayor Girdler.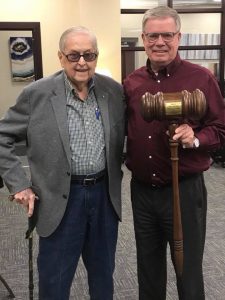 The City of Somerset is pleased to announce that the transfer of ownership of the former YMCA property has been completed. The City of Somerset will continue to operate the Somerfit facility until April 2nd, 2018. The fitness center will stay open after that date with a schedule of times to be posted by March 1st.
The transfer to the Somerset School Board will now allow the completion of the construction plans for the repair of the therapy and lap pools so that bids can be taken shortly.
"The first priority under this agreement is to complete the repairs to the indoor pools as soon as possible," Mayor Girdler explained. "We apologize for the delay but the decision by the state to initially close the pools was not necessary but we had to comply."
Mayor Girdler and the Somerset City Council appreciate the cooperation of the Somerset School Board, teachers, and assistants in helping to complete the transaction. The City feels that this arrangement will provide a much needed therapy pool for our senior citizens and those needing pool therapy for health reasons. It will accommodate school based swim meets and programs for students and will continue to provide fitness space for exercise and workouts.
WINTER FROZEN PIPE INFORMATION
"How to prevent your pipes from freezing…"
The City of Somerset along with plumbers have been busy during the recent cold weather because when the temperature plummets, the risk of pipes freezing goes up. In fact, frozen pipes are one of the most common causes of property damage during frigid weather and can cause thousands in water damage. The pipes that freeze most frequently are those in such unheated interior spaces as basements, attics, and garages. But pipes that run through your cabinets or that are against an exterior wall are also at risk. Here's some advice from the on how to prevent your pipes from freezing as well as how to thaw them if they do.
How to prevent pipes from freezing:
Once the temperature starts dropping outside, you should take measures inside to keep your pipes warm and water running. Some may go against your better instincts of conserving water and heat but the extra expense is nothing compared to a hefty repair bill. Here's what to do:
• Keep garage doors closed if there are water supply lines in the garage.
• Open kitchen and bathroom cabinet doors to allow warmer air to circulate around the plumbing. (If you have small children, be sure to remove any harmful cleaners and household chemicals.)
• Let the cold water drip from a faucet served by exposed pipes. Running water through the pipe—even at a trickle—helps prevent pipes from freezing.
• Keep the thermostat set to the same temperature both during the day and at night.
• If you plan to be away during cold weather, leave the heat on in your home, set to a temperature no lower than 55° F.
• For the long term, add insulation to attics, basements and crawl spaces. Insulation will maintain higher temperatures in those areas.
How to thaw your pipes
If you turn on a faucet and only a trickle comes out, suspect a frozen pipe. Likely places for frozen pipes include those against exterior walls or where your water service enters your home through the foundation. If the water is still running, you can take the following steps but if you suspect a more serious problem, call a plumber.
• Keep the faucet open. As you treat the frozen pipe and the frozen area begins to melt, water will begin to flow through the frozen area. Running water through the pipe will help melt ice in the pipe.
• Apply heat to the section of pipe using an electric heating pad wrapped around the pipe, an electric hair dryer, a portable space heater (kept away from flammable materials), or by wrapping pipes with towels soaked in hot water. Do not use a blowtorch, kerosene or propane heater, charcoal stove, or other open flame device.
• Apply heat until full water pressure is restored. Check all other faucets in your home to find out if you have additional frozen pipes. If one pipe freezes, others may freeze, too.
• If you are unable to locate the frozen area, if the frozen area is not accessible, or if you can not thaw the pipe, call a licensed plumber.
PRESS RELEASE
November 27, 2017
The City of Somerset has received the independent Certified Public Accountants (CPA) audit report as required by state law for the period ending June 30, 2017. The financial audit, provided to the City Council, reported a clean audit with no audit findings. Mayor Eddie Girdler said that he was very pleased that the audit was presented as a clean audit with no audit findings and credited the successful audit to the cooperation of the City Council and the hard work of all city employees.
The Budget was in balance and any revisions were approved by City Council with revenues more than budgeted and expenses less than budgeted. Mayor Girdler indicated that Somerset's Chief Financial Officer, Mike Broyles, works closely with the City Council and all departments to meet all financial standards. The Mayor said that it is a major positive achievement for the City of Somerset, City Council, and city staff to obtain an audit that is clean with no audit findings. He went on to say that the City is proud of financial activities and is happy to provide quality services at a low cost to the citizens of Somerset.
The Audit reported cash balances of $19.9 million. Over $17 million of that is unrestricted or non-obligated that may be included in any budget or revisions approved by City Council. Total long term debt decreased by $1.6 million. The General Assembly is currently reviewing Legislation on the pension system that continues to force cities, counties, and the state to place unfunded liability on every agency's books. This was required by national accounting standards and no city or county has any say in what is finally approved. Only the General Assembly can make those approvals.
The Energy Center project has been closed with savings of over $350,000 which reduced the amount to be paid back or applied to future interest.
For additional information, please contact CFO Mike Broyles at City Hall or visit our web site at http://www.cityofsomerset.com for a complete copy. The City of Somerset is a fully transparent city with financial information on our web page and STV which televises all City Council meetings.
Natural Gas
$1.60/Gallon
Our credit card system does not accept
Fleet Cards or Pre-Paid Debit Cards
Unleaded Gas
$2.279/Gallon 
Our credit card system does not accept
Fleet Cards or Pre-Paid Debit Cards.
We want to hear from you. Please take the survey below.
RTEC Holiday
Trolley Route
**Revised 1/3/2018**