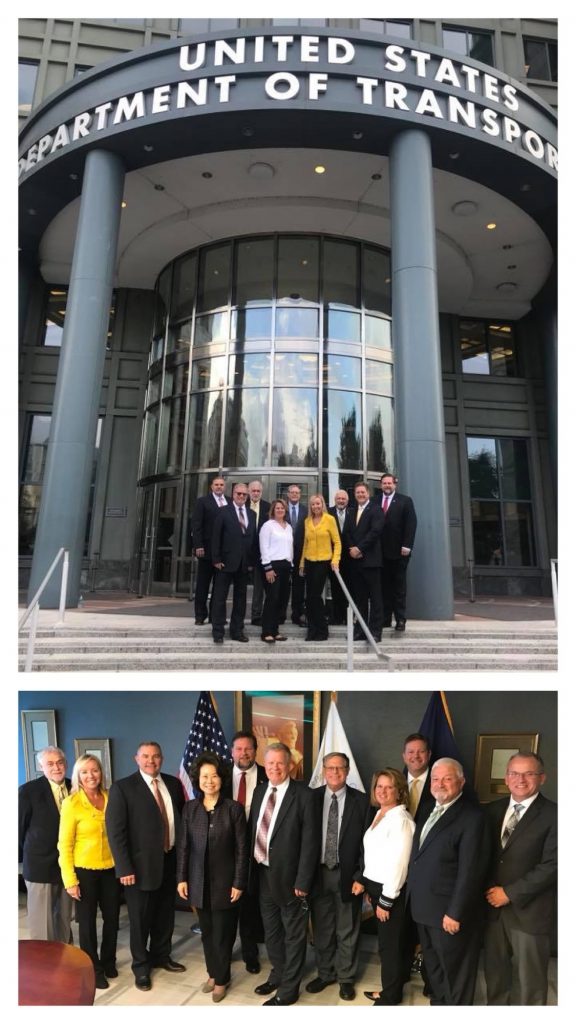 October 10, 2018 Mayor Eddie Girdler and other local & state officials, including State Representative Tommy Turner and Senator Rick Girdler, visited Washington DC today to meet with the US Department of Transportation Secretary, Elaine Chao, in order to secure a $25 million grant to enhance the Hwy 461/80 interchange which will benefit the City and County's accessibility, industrial and economic development, increase local commerce and agriculture, and have a great impact on local tourism. Thank you to our own Representative Hal Rogers and his staff for arranging this important meeting for our state and local officials!
ADDITIONAL POLICE VEHICLES ADDED TO FLEET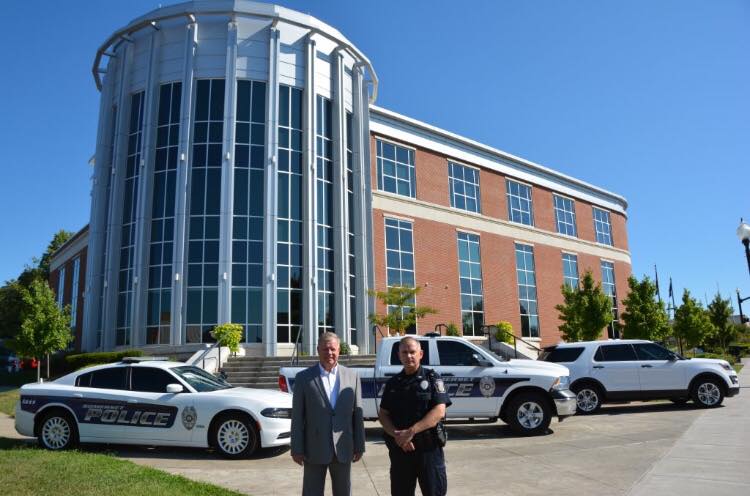 The Somerset Police Department has recently gained additional police vehicles to our fleet.
We would like to thank Mayor Eddie Girdler and the Somerset City Council for approving the lease of 8 new police vehicles. These 8 new vehicles include patrol cars, an additional pickup and police utility vehicles.
Over the past few years, Somerset City Council and Mayor Girdler have worked together to invest over $2 million in vehicles and equipment for police, fire, and EMS
Pictured are Somerset Mayor Eddie Girdler and Somerset Police Chief William Hunt with our newest Dodge Charger patrol car, Dodge Ram pickup and a Police Utility assigned to our Criminal Investigation Division.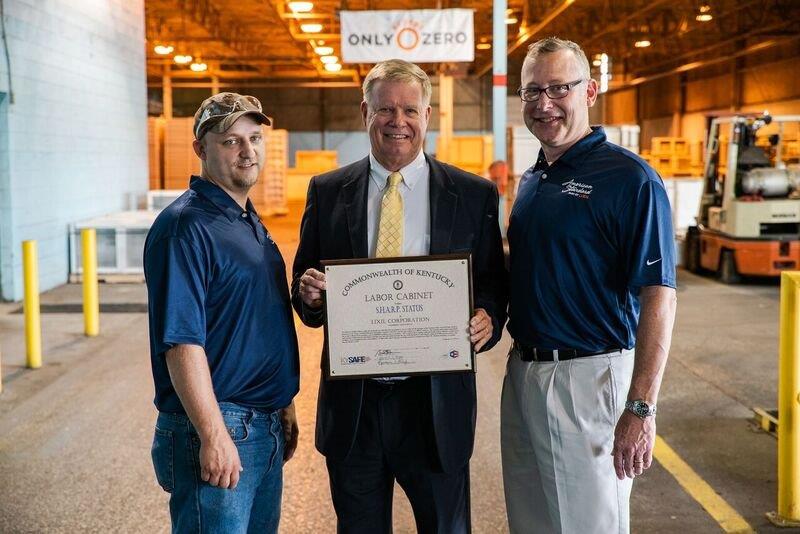 August 2, 2018 Mayor Eddie Girdler, Eric Vanover (Plant Manager for FIAT Products in Somerset) and Wade McNabb (Senior Director of Operations for LIXIL Group/FIAT Products) celebrate the award presented by the State of Kentucky Labor Cabinet for the FIAT plant in Somerset for three years of no injuries in their operation. Mayor Girdler thanked LIXIL Group/FIAT/American Standard for investing in Somerset and the tremendous achievement by the workers at the plant. The award showcases the great workforce, commitment and dedication of both management and labor as co-workers in first class operations.
PRESS RELEASE
November 27, 2017
The City of Somerset has received the independent Certified Public Accountants (CPA) audit report as required by state law for the period ending June 30, 2017. The financial audit, provided to the City Council, reported a clean audit with no audit findings. Mayor Eddie Girdler said that he was very pleased that the audit was presented as a clean audit with no audit findings and credited the successful audit to the cooperation of the City Council and the hard work of all city employees.
The Budget was in balance and any revisions were approved by City Council with revenues more than budgeted and expenses less than budgeted. Mayor Girdler indicated that Somerset's Chief Financial Officer, Mike Broyles, works closely with the City Council and all departments to meet all financial standards. The Mayor said that it is a major positive achievement for the City of Somerset, City Council, and city staff to obtain an audit that is clean with no audit findings. He went on to say that the City is proud of financial activities and is happy to provide quality services at a low cost to the citizens of Somerset.
The Audit reported cash balances of $19.9 million. Over $17 million of that is unrestricted or non-obligated that may be included in any budget or revisions approved by City Council. Total long term debt decreased by $1.6 million. The General Assembly is currently reviewing Legislation on the pension system that continues to force cities, counties, and the state to place unfunded liability on every agency's books. This was required by national accounting standards and no city or county has any say in what is finally approved. Only the General Assembly can make those approvals.
The Energy Center project has been closed with savings of over $350,000 which reduced the amount to be paid back or applied to future interest.
For additional information, please contact CFO Mike Broyles at City Hall or visit our web site at http://www.cityofsomerset.com for a complete copy. The City of Somerset is a fully transparent city with financial information on our web page and STV which televises all City Council meetings.
Natural Gas
$1.60/Gallon
Our credit card system does not accept
Fleet Cards or Pre-Paid Debit Cards
Unleaded Gas
$2.299/Gallon  Our credit card system does not accept Fleet Cards or Pre-Paid Debit Cards.
We want to hear from you. Please take the survey below.
RTEC Holiday
Trolley Route
**Revised 1/3/2018**